Do You Have Enough Self Esteem
to Get the Very Best Out of Yourself?
Who Are You?
What about your Self Esteem? Do you see yourself in a strong and positive way and do you live your life to the fullest? Or do negative words and pictures cross your mind looking in the mirror, being afraid to express yourself for who you really are?
I like to start this journey on finding the truth about who we are by a quote from 'Conversations With God'. It caused me to rearrange my thoughts about myself. And that is the start of every change:
'The deepest secret is that life is not a process of discovery, but a process of creation. You are not discovering yourself, but creating yourself anew. Seek, therefore not to find out who you are, seek to determine who you want to be.'
Neale Donald Walsch.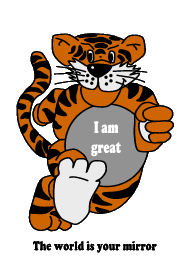 Your Self-Image

How you see yourself determines the state of your happiness and success. You are who you think you are, period. The beliefs you have about yourself are the source of your behaviour and your results in life. The beautiful thing is that you can change and choose what you believe. And by changing those long lasting thoughts, you were once so certain about, you change everything.

We are determined to give you the best of world´s information and knowledge about the impact of one´s self esteem and building it to help you and your beloved ones live the life you truly deserve.






What Can You Expect From Us?

In this site we will uncover for you how to:
- Discover your potential by knowing who you really are
- Unleash your power doing some amazing powerful exercises
- Know the power of your beliefs and how your reality is build upon them
- Help your kids build a strong personality
- Use the tools in the classroom for a happy and succesfull class
- Learn what quantum physicists tell about creating your world from your thoughts
- and much more about building you a positive self image, knowing your self worth and creating your life the way you want it.
If you'd know who you really are you could not suffer from low self esteem. Your self concept will be build on the truth about yourself.
What is self esteem? It is your valuation of your own worth. And in anyway it determines your happiness and success in life.
Low self esteem is the cause of many problems and frustrations. What is it? What are the symptoms? Where does it come from? How to turn it around?
The self esteem tests show you what you believe about yourself. Answer the questions as honest as you can being aware of that feeling of certainty that goes along with the answering.
Our whole physical univers is build on beliefs. Limiting thoughts make the possibilities of the Infinite limited. The borders of your reality depend on your self esteem.
Would you like to have super high self esteem? I'll give you various self esteem building activities. It's fun to do and makes you feel so good.
I'll give you a couple of real powerful self esteem exercises. The only way to change something is to apply what you know. This will help you in a mighty way boosting your self esteem.
These self esteem worksheets will help you to apply what you have learned so far. And applying what you know is the only way to let knowledge be power.
The self esteem Games I have found on the net can help you and your kids raise your self esteem in an exciting and fun way.
These inspirational self esteem quotes will help you see the wonder who you are. You got the power to win or to stop you from winning. Choose how to use it!
Self esteem is no issue at all if you experience Higher Self connection. Call it your intuition or inner being, it is everywhere and it knows everything because it is connected to everything.
Contact page
Would you like to share your knowledge about self esteem? Great, find out how you can submit your story or tip here.